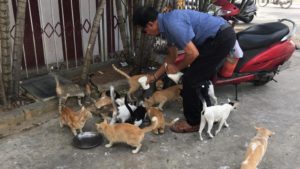 Lockdown has not stopped this man from taking care of cats in Mylapore.
Prakash S.R., a resident of Mundagakanni Amman Kovil Street, Mylapore has been taking care of the neighbourhood cats for some 22 years now.
A retired Railways employee, Prakash says he spends most of his pension amount towards this cause.
Now, during the lockdown period, he continues to take care of cats with the help of a few volunteers.
Says Prakash, "Since the lockdown, my friend Shankaranarayanan has been feeding whiskas (cat food) to some 30 cats in and around Sri Kapaleeswarar temple, Mylapore. As the temple is closed, we are unable to go inside. However, on seeing Shankaranarayanan, cats inside the temple come outside to get food. Rakshita, a student who stays close by Navasakthi Vinayagar Temple, Luz feeds some 40 cats behind this temple."
"Few volunteers and auto drivers also take cat food from me to feed cats at Nageshwara Rao Park," he says.
However, Prakash has not been able to step out much after lockdown. "As I'm over 55, I have been advised not to go out. But I arrange cat food and give it to volunteers who feed cats."
Prakash says they have also been providing medical treatment to sick cats. "Whenever required we take the sick cats for treatment at nearby Veterinary clinic," he says.
When asked if procuring cat food is difficult during lockdown, he says, "The regular shops from where I buy cat food are supplying me the necessary foodstuff. Hence, there is not much problem. I have arranged Mani, a volunteer who works with Dunzo delivery platform to get cat food and deliver it to volunteers."