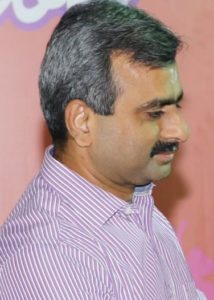 53 year old T. N Venkatanarayanan (TNV), who heads and runs a software firm from Mylapore has fond memories of the Kapali Panguni Utsavam dating back to the 1970s.
"My grandfather was a senior advocate living on the East Mada Street. Each day of the Utsavam, I was blessed to watch the procession from our balcony. It was a vantage point especially on the chariot and arubathu moovar days and people thronged our homes to get a straight view of the Lord."
Right from his school days, TNV was involved in the pulling of the chariot "For well over a decade, I used to go and pull the chariot on all the four streets. It was all real devotion at that time. They used to pour water on us from the house tops".
He remembers the Utsavam creating a carnival atmosphere around the Mada Streets "The entire family was involved in the festivities. It was a great feeling to host several friends and relatives during the festival. We used to invite them, proactively.  Our house was full of guests and visitors during this period."
Venkatanarayanan says that it was during such times that children listened to legendary temple tales relating to the saint-poets
"As families got together for the utsavam, the elderly used to narrate historical stories about the temple and the significance of the processions that kept the children engrossed. There was a devotional charm attached to the festival. Those that were part of the utsavam always saw it as a spiritual and divine blessing. The utsavam always provided the people with positive vibration that energized them in their day to day activities"
"To me the big highlight of the Panguni Utsavam has always been the camaraderie it brought among people. Caste, creed and economic status take a back seat during the ten days of the utsavam."
The cancellation of the utsavam this year ( due to the corona virus) is a big disappointment to him. "I understand the Utsavam was not cancelled even during the World War."
TNV lives on Nadu Street.
(TNV truly believes in selfless service and reaching out to the needy. He has been providing treatment for jaundice for the last two decades that has saved many a life, having taken over from his family that had been providing this treatment for over a century.)