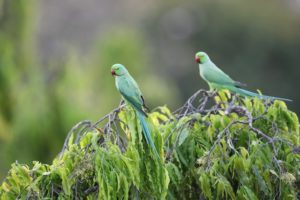 Vinoth and his family, residents of Pallava Heights apartment at Luz Avenue, are making good use of their hobbies and the open terrace.
They take turns to shoot pictures of birds that nest on avenue trees. And those that home in in Nageswara Rao Park.
Says Vinoth in a email, "During these lockdown days we have been doing a lot of photography together as a family. Since there are lots of Ashoka trees and mango trees around our apartment, lots of birds nest there. Everyday we all go to the terrace and click photos of these unique birds, sunsets and moonrise as well."
This is a trio on the terrace – Vinoth, his wife and their 7 year old son.
Their pictures are online now.
Vinoth's 7 year old son's Instagram page is  here –
And Vinoth's Instagram page is here –
Photo courtesy; Vinoth