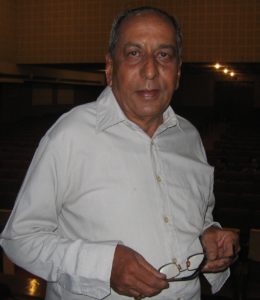 Renowned theatre personality Kathadi Ramamurthy is 82 years old but is bubbling with the enthusiasm even in lockdown times.
March and April were to be busy months for his Stage Creations' troupe. It was slated to present a drama in Kolkatta in March. Also, there were six dramas slated for Sabhas in April including a new drama. All of these had to be postponed.
To beat the boredom caused by corona and to bring some cheer to the outside world, Stage Creations has now gone online during the lockdown. Scripted by 'Manager' S L Naanu, the troupe has posted its first short film on the Stage Creations YouTube channel.
Named as 'Off Stage Act', the story that runs for about 5 minutes showcases the enormous difficulty a director faces in getting dates from the artistes for a drama.
Each of the 7 artistes was given a script that included specific details on how to look and in which direction to face.
Sitting in the confines of their homes, they had to video shoot their part of the script and send it back online to Naanu, who then went into the mixing and editing work of the short film.
This has been loaded online on Stage Creation's Youtube channel. Their first online short film can be viewed onhttps://www.youtube.com/watch?v=Hgjh1PMLpUU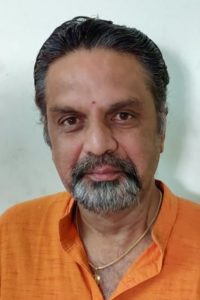 'Manager' Naanu ( seen in 2nd picture) as he is known in the theatre circles is delighted at the active participation of Ramamurthy.
"Kathadi is very active even though he is well past 80. He has always been our guiding spirit. As you look at him enacting the scene narrated to him, one immediately gets a sense of that passionate feeling he has for drama," says Naanu.
The troupe is working on a second online short film titled 'Ennathai Solla', a story on the latest trends. This will be released soon.
In addition to Stage Creations going online, scriptwriter 'Naanu' has scripted two short films of his own – he has directed 'Nishabdham'.
Here is the link – (https://www.youtube.com/watch?v=j-6RQbWXe6c)
Kathadi Ramamurthy resides on Sir C. V. Raman Road.