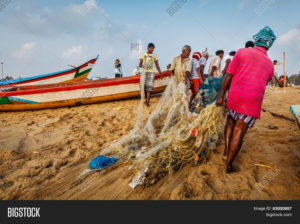 Small businesses that cater to a huge population in a colony are getting fidgety; they want to open their doors to business so that they can start earning something.
This is the scene in Srinivasapuram, a hamlet of over 5,000 people living inside a slice of land that has the seashore on the eastern side and the Adyar estuary on the western border, where garbage mounds make humans look like miniatures.
The fisherfolk are small in number; most houses are occupied by day-job workers, auto drivers, maids and others.
Some fisherfolk have put out to sea on a  few recent days and got some decent catches. Ordinarily, some 20 to 30 women hawkers sold this catch at the Marina Loop Road junction under the giant street lights mast near the MTC terminus here.
But when the hawkers re-started business and drew a large crowd of shoppers, the ooru thalaivars ( kuppam heads) decided to ban the fishing and stop the sales after some people protested, saying this could spread the virus.
The women hawkers were agitated so they challenged the men who ran meat shops in the kuppam, says Kavitha, a social worker here. "They argued that if fish was banned then why have meat sales," says Kavitha, who has lived here for over four decades.
The meat shops downed shutters. But the murmurs continued.
Now, you can shop for dry fish sold by hawkers inside colony. But it is pricey.
Says Kavitha, "There is a big demand for fish from outside, so hawkers want to get on with the business. They are restless."
Photo is from a file. Not of recent activity.