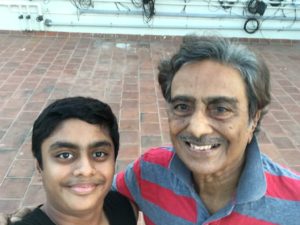 Legendary leg spinner V V Kumar is 84 years old. He was a disciplinarian during his playing days bowling in the nets for hours together with his legendary spin mate S. Venkataraghavan each day of the cricket season.
Today, exercise is part of this famous Mylaporean's life even in the lockdown days
In Ranji Trophy matches, Kumar would tirelessly bowl 30 to 40 overs. Much later, well past 60, Kumar, as a bowling coach at the Spin Foundation, was seen bowling in the nets showcasing the tricks of the trade to his wards.
Four decades after his first class retirement, Kumar still follows a strict exercise timetable each day of the year. Prior to the lockdown, one could spot him on the streets of Mylapore every evening with his brisk long walks lasting an hour.
So has the octogenarian been missing his walks during the lockdown?
"My exercise schedule during the lockdown is 45 minutes every day. We have a big terrace. I climb stairs twice, three stories and walk for 40 minutes and jog for 5 minutes apart from climbing."
Kumar's grandson Aaditya is a budding football talent. He has already played in the under-13 'I' League for Chennai City club. For years, it has been Kumar who has chauffeured his grandson to football coaching in the far end of the city.
Kumar says that his grandson's aerobics sessions are taken care of by him while the football training has been designed and executed by his coaches every day for 90 minutes – mostly under lights.
Kumar is part of former cricketers' Whatsapp group. During the lockdown, he has been actively involved in cricketing discussions on the group where he shares and discusses funny incidents in Ranji trophy and other static matches.
Last year, Kumar was presented the 'Spirit of Mylapore' award at the annual Sundaram Finance Mylapore Festival.