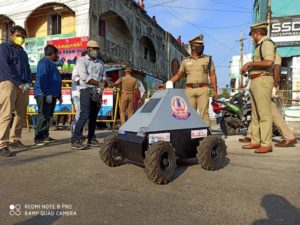 Mylapore police have started using a robotic device to create awareness about Coronavirus at the containment zone at Meenambal Puram slum in Mylapore.
The slum is located behind Citi Centre mall at Dr Radhakrishnan Salai.
Called robot cop, the device has four wheels and travels on the ground.
Its special features include two-way intercom communication, camera surveillance, precise steering control and LED display.
On a trial basis, the device was first launched at this slum where multiple virus-positive cases have been reported. Based on the success of this model, the police plan to implement it across the city.
Says Perumal, a head constable who is deployed at this area, "The device is operated through remote control. We use it to create awareness about COVID-19 and the precautionary measures to be taken to prevent its spread. It easily travels to inner streets where we are unable to go. "
He says that a camera mounted on top of the device records continuous visuals that are sent to the police control room. "It also has a two-way intercom facility through which recorded public awareness announcements are made. The public can also communicate to us via the intercom."
"The device travels close to a kilometre in all directions with wireless connectivity, " he says.