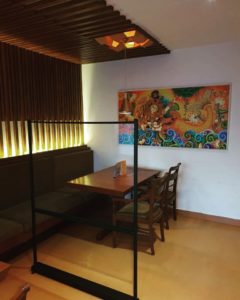 From having a glass separator between tables to introducing digital menu card, this restaurant in Mylapore has come up with innovative precautions to prevent the virus spread.
Ente Keralam, the popular restaurant known for its authentic Kerala cuisine has opened for dining. And its promoters are doing all they can to maintain proper hygiene here.
Before a customer enters the restaurant their temperatures are scanned with thermal scanners. Once they are inside, they are seated on tables maintaining social distance. Later, a special pouch is handed to customers, to keep their used masks until they finish dining.
Says Altaf, manager at the restaurant, "This is to ensure they don't keep their used masks on tables. The pouches are later disposed of."
Glass separators are placed between tables to ensure there is a barrier between adjacent tables.
Customers get access to the menu cards via a QR code kept at each table. Then, according to the order, staff wearing masks and gloves serve the dishes.
The restaurant has also formed a sanitisation department to sanitise everything from glassware and tables to chairs and doorknobs. The process is repeated after every customer leaves. The kitchen and all surfaces that are touched are also sanitised frequently, says the manager.
He says that the bathroom and toilet are sanitised every half an hour.
In addition, the restaurant is also planning to introduce personalised deliveries for its regular customers. "We plan to do our own deliveries, wherein well-groomed staff with masks and gloves will visit our long time customers to deliver their favourite dishes."
"As they have been our regulars for several years, we know their food choices. And hence, whenever they visit the restaurant, our staff would directly serve them their favourite food without the customers asking for it. We want to recreate the same bond through personalised deliveries."
Mutton biryani, Thalassery biriyani (chicken, prawn, fish), Appam, Idiyappam, and currys (Kerala style chicken curry, Alleppey fish curry), Trivandrum style prawn/ fish starters are some of the items that are available at the restaurant.
Benjarong, the well-known Thai restaurant off TTK Road, Alwarpet that is run by their management is also open for dining. All these precautions are put in place there as well.
Open from 10 am to 8 pm. Takeaways available between 10 am and 9 pm. At 1 First Street, Poes Garden, Kasturi Estate, Alwarpet. Ph: 7604915091/6374999504
Picture shows a glass separator between tables; courtesy: Ente Keralam