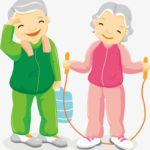 When Sukanyya ( name changed on request) heard that a resident of 3rd Main Road in R A Puram had turned positive with the virus, she was very concerned. Her aged parents lived next door and she would no be able to help since she was now abroad.
"I am finding this situation tricky. It is hard to warn my folks without stressing them out," she said in a n e-mail conversation after she sought some help from Mylapore Times.
She had many concerns; is the whole family of the 'case' isolated? Can quarantined people step out? Will neighbours be at risk?
Like hundreds of people who have roots in Mylapore and whose aged parents are living in Mylapore and managing the lockdown and caring for their health, Sukanyya too had to micro-manage the situation on a daily basis. And like some, she turned to Mylapore Times for clarifications.
Said Sukanyya, "They are ordering groceries by phone or asking their maid to buy and staying indoors. They say their daily prayers and talking to us. Staying positive is the only thing we can do. Mylapore Times has been my source of neighborhood information that I pass on to them."
Sukanyya had other concerns too though she was pleased her parents had managed well this far. "Another family living in my parents' building has an expecting mother who is very close to her due date. I am also concerned about all of them."
There are many senior citizens who live on this road, she told us.