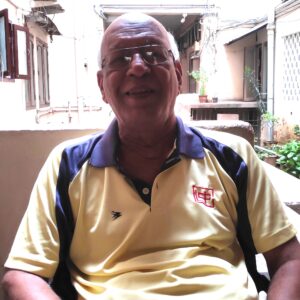 It has been quite a challenging four months of Lockdown for 74 year old TNCA umpire and committee member S Ramji.
He has been in the umpiring committee for the last two decades and is the one who posts umpires for all matches conducted by the TNCA.
Coming to the end of the 2019-20 league season, he had been very active till mid-March, posting umpires for the final round of league matches in the first division when the TNCA suspended, indefinitely, all cricket matches.
There are many umpires associated with the TNCA who are fully dependent on umpiring for their livelihood. During the period of the lockdown, Ramji, along with J R Madanagopal, the chairman of the umpiring committee brought together the TNCA umpires and referees (officiating at the BCCI level), to pool in money to support 15 umpires of the TNCA with Rs. 10000-15000 each during the period of the lockdown.
Says Ramji, "The idea was that of umpire Sai Darshan Kumar. A number of the umpires generously contributed to this cause and we collected around Rs. 2 lakhs and distributed this to those for whom umpiring in local matches is the only source of income."
Over the last decade, Ramji has been a regular walker at the Nageswara Rao Park in the mornings. After an hour of walking, he is often seen exercising around the Chess Square for half an hour.
With the lockdown restrictions, he has had to make do with walking inside his campus – Luz Apartments on Luz Church Road. "I help with the household chores, washing clothes and cleaning the house," he laughs.
In the Ranji Trophy season that just went by, Ramji was the liaison man for the umpires in a match played at Chepauk. He has also played the role of coordinator for match officials in Ranji, TNPL and BCCI matches and a general purpose committee member for IPL and international matches played at Chepauk.
Ramji says that he was happy in early June with the relaxation of restrictions and even went to the TNCA on official work to clear pending payments of umpires and had hoped that he could resume his honorary services once again.
But the stringent restriction has forced him indoors once again "I am not sure if the pending matches of the 2019-20 season will resume whenever the restrictions are lifted' says Ramji.
Ramji played for first division team IOB between 1968 and 1973 and umpired league matches for around 15 years from the late 1980s.