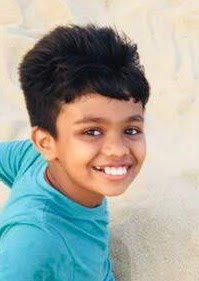 Meet S. Aarush, a 13-year-old resident of Ashiana Apartments in Alwarpet, who has started making upcycled toys for himself during lockdown.
With broken sticks, old clothes and shoes, the 13-year-old has already made a collection of Harry Potter wands and props used by the characters of popular film series Avengers.
Says Aarush, "I and my brother Rudransh are big fans of Harry Potter and Avengers film series. So we love doing role-play activities based on the film."
Now, to enact the scenes, Aarush required some props like 'Harry Potter' wands and masks. But soon he found those were very expensive both online and in the local market.
That is when Aarush, who has been involved in the local green club was motivated to make the props with things available at home. "During my morning walks, I would pick up thin bamboo sticks from the garden to make Harry Potter wands. Later, I would use glue and clay to make the wands similar to those shown in the film."
Likewise, he has made a Deadpool mask by hand stitching torn clothes and Captain America's broken shield using carton boxes.
Aarush has been interested in drawing, painting and craft making since the age of 5. And this he says immensely helped him in making the toys. "It would just take an hour for me to make each one."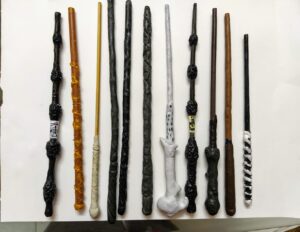 Says Aarush's mother Venkateshwari, who has been actively encouraging her son in his new venture, "I'm very happy that his creative talent has come out during lockdown. In doing this, he has also learnt new skills."
A few weeks ago, Venkateshwari also put out a video on YouTube, in which Aarush explains how he went about making the toys. That video has now garnered around 1000 views. "Many parents also called us asking tips to make the wands. And we were happy to guide them."
"I also made a Harry Potter wand for one akka in the neighbourhood," says Aarush, who now plans to continue making all his toys at home.
And Mother Venkateshwari feels promoting this idea will be a great way of reducing the amount of plastic toys people buy and will, in turn, reduce the garbage one creates.
Aarush says he might make and sell such props if demand arises. But has not decided on it yet.
The 8th-grade student of Chettinad Vidyashram aims to become an Artificial Intelligence scientist when he grows up.
People who may require some tips on making similar props may contact Aarush's mother Venkateshwari at 9820204040.
Lead for this story came from Bhuvana Panchanath of Ashiana Apartments