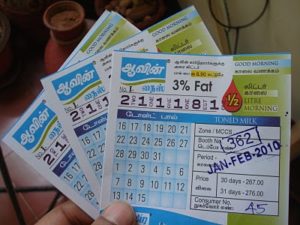 Aavin milk cardholders in the neighbourhood are facing severe problems to renew their monthly milk cards.
This is because Aavin is yet to make the milk card renewals completely online. And hence, people are having to visit the nearest Aavin depot and stand in long queues to renew milk cards every month.
Now, this is frustrating customers as they say social distancing is compromised while doing so.
Says Kapaleeswaran Venkataraman, a Mylaporean, "The card renewal centre at Mandaveli is so narrow and cramped that it is impossible to maintain physical distancing. Online renewal is the urgent need of the hour."
Some people also point out that contactless online payment is not available and that they are having to use their credit/ debit cards to make payment for milk card renewal.
Says Narayanan A, a regular user of Aavin, "We contacted several officers in Aavin (regarding this issue), and their response is very cold and with an attitude. We have made a petition to Mylapore MLA, which also does not seem to have been acted upon, so far. Finally, we are planning to use Dunzo for milk card renewal."
When contacted the Deputy Manager, Aavin Zonal office, C.P.Ramaswamy Road, Mylapore, says, "Payment for milk cards renewal can be made online at https://aavinmilk.com/. Once payment is successful, people will receive an acknowledgement slip. However, consumers have to bring a printout of the slip to their nearest Aavin depot, to get the new milk cards, This is the procedure now."
When asked if a contactless online payment option is available, she says, "Contactless payment like Paytm is not available now. People can make payment at the Mylapore zonal office via a card machine. We clean it with a cloth regularly. But the problem is that
only one machine is available for multiple counters here. Hence, we have requested for another card machine from our higher officials so we can serve the customers better."
As far the social distancing is concerned she says she has designated a staff to regulate physical distancing at the zonal office in Mylapore. "We are also instructing all depot managers to regulate social distancing."
Aavin's Mylapore zonal office (above Aavin milk parlour) at C.P. Ramaswamy Road, Alwarpet will be open from 8 am to 1 pm on all days except Sundays.
Milk card renewal can be made at this office from 1st to 14th of every month during these times.
Says the official, "If people visit our office at 8 am, they can finish the process easily. There would be no crowd at that time"
Picture courtesy: deepaknammaarea.blogspot.com