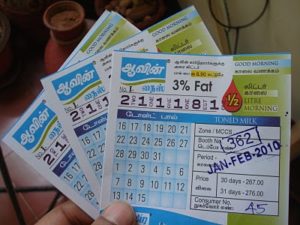 Aavin milk cardholders can now renew monthly milk cards at their nearest Aavin booths.
A few weeks ago, the milk major re-introduced its old system of issuing milk cards to all the 38 booths, it manages.
Says a staff from Aavin's Mylapore zonal office at C.P. Ramaswamy Road, Alwarpet, "Following March lockdown, for a few weeks, we could not distribute milk cards to local booths. Hence, all milk cardholders had to come to this office to renew their cards."
"However, soon after the lockdown restrictions were relaxed, we began issuing new cards to the booths."
He says that they issue monthly milk cards to booths at the beginning of every month.
People can visit nearby booths at dates specified by booth manager, to collect milk cards. They may make payment in cash, he says.
However, in recent times, people have been complaining of social distancing being compromised while standing in queue at these booths.
They have also pointed out the need for a contactless transaction for making payments. But Aavin is yet to make this process online.
People may visit local booths between 9 am and 12 noon at the dates specified by the booths to renew their milk cards.
If one wishes to make payment via a debit/credit card machine, they may visit Aavin's Mylapore zonal office (above the Aavin milk parlour) at C.P. Ramaswamy Road from 1st to 14th of every month between 8 am and 1 pm. Ph: 23464557.
Picture courtesy: deepaknammaarea.blogspot.com