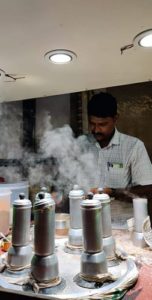 Now, you can get your favourite puttu door delivered from the popular 'Royal Puttu' shop, that used to run at the pavement off North Mada Street, Mylapore.
The owners of the food joint have recently tied up with Swiggy for this purpose.
Says Govindaraju, who manages the shop along with sister Yamuna, "All our millet-based puttu varieties like kambu, kelveragu, and red rice will be available for door delivery via Swiggy."
Following lockdown, like most businesses, this duo too had to close their shop. With no means to earn a living, Govindaraju left to his village at Vedaranyam in Nagapattinam district and took up farming to support his family.
However, a few months into the new venture, Govindaraju understood that farming is not yielding him much profit. And so when the restrictions were relaxed early this August, Govindaraju decided to re-start puttu business from his sister's home.
"We made an arrangement to get ingredients at my sister's Adyar home and used our savings to collaborate with Swiggy. We hope we will be able to revive our business this way."
Started in early 2019, this puttu business had quickly become very successful, with people from across the city thronging here to buy puttu.
Govindaraju plans to re-open his shop at North Mada Street whenever the regulations are eased.
All their puttu varieties will be priced at Rs.50. (Delivery charges may apply). People can find this shop in Swiggy by the name 'Royal Puttu'. Customers may also independently use Dunzo to get their favourite puttu, he says.
For more details contact Govindaraju at 7010353697, 8056203035.
Picture features the Royal Puttu shop; Courtesy: https://lbb.in/