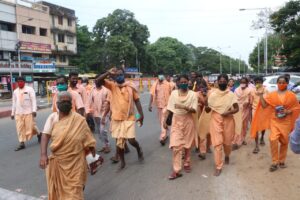 The pandemic is certainly not discouraging the believers from  their commitment to Gods they pray to and believe in.
On Saturday, August 22 even as Sri Vinayaka Chathurti celebrations were being observed in homes and some people headed to closed temple to say a prayer, on the road were groups of pilgrims who were headed to the Annai Vailankanni Shrine in Besant Nagar.
This being the season of the 'Madha' festival, ( Mother Mary's birthday is celebrated on Sept.8), a number of people take part in pilgrimages, some walking for days from the city to Vailankanni in Nagapattinam district where the main shrine is located ( it is now shut due to regulations).
Others undertake shorter pilgrimages.
This morning, groups of pilgrims who said they were from Vysarpadi were seen walking down Luz Church Road, turning into R. K. Mutt Road and headed south, to Besant Nagar.
There were men, women, youths and children, all wearing kavi clothes.
Many pilgrims use the weekend holidays to observe these pilgrimages.
The Besant Nagar shrine is also closed and services are being webcast. But the pilgrim walks may increase in the first week of September.