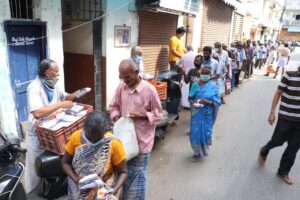 A group of Mylaporeans based at Mathala Narayanan Street has chosen to continue its service to the homeless.
Anticipating that lockdown would not be extended, S. Vidyanathan and family had previously decided to wrap up their service by July end.
But with the lockdown extension into August, the family and their wellwishers are continuing to reach out to the homeless persons.
Says Vidyanathan, a resident here, "Now, though certain relaxations are provided in this lockdown, the public transport is still restricted and temples are not re-opened. So there is no way the homeless persons and daily wage earners could get food. Hence, we decided to extend our service until August 15."

"We are planning to continue it up to August 31st if circumstances permit, he says.
The group started this service in early April, in an effort to not break their age-old family tradition of distributing home-cooked food to the public during 'Arubathumoovar' and 'Ther' days of Panguni festival at Sri Kapaleeswarar Temple.
Since then, they have been distributing dishes like sambhar rice, and puliogarai for some 700 homeless persons daily.
From pooling funds and cooking to food distribution, the entire work is carried out by this resident's friends, family and wellwishers.
The team's service has been running for over 100 consecutive days now. "So people are flooding our inboxes with words of appreciation. That is one thing that keeps us going."
Photo used here was shot in late July