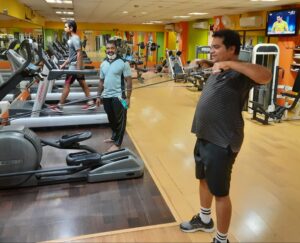 The re-opened The Mylapore Club in Luz is witnessing a lot of activity now.
The canteen reopened last week, with members allowed to have tiffin items inside the club. Some 75% of the items are back on the menu list.
The popular Sunday meals has also been introduced but for takeaways only – some 100-plus takeaways were recorded last Sunday. All the staffers at the canteen wear masks.
The popular gym here has also reopened after a gap of 6 months. Members have slowly started trickling in. The Head of the sports committee of the Club, Sandeep Srinivasan was seen joining others at his work out when we dropped in.
The shuttle court is easily the most used facility now since the reopening of the club for members. The morning slots have been packed over the last two weeks,  says the marker of many decades, Muruganandam. Only in the evening, there are one or two slots available, he says.
At the tennis court too, members are back and have been practising regularly over the last fortnight.
A number of club members (former first division cricketers) provide one to one coaching for young boys and girls at the cricket nets housed within the Mylapore Club.
The coaching activity at the cricket is still on hold as many of the wards are non members and the club is still closed for non members.
Also the coaching provided by the Mylapore Club Academy has not reopened. For the moment, the Mylapore Club cricket team is looking to practice under the floodlights ahead of the upcoming 'club cricket' season.
Report and photo by S. Prabhu