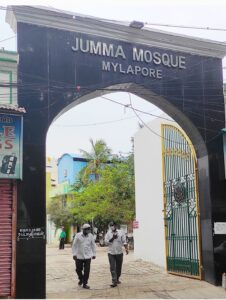 On September 1, Jumma Masjid at Kutchery Road, Mylapore re-opened, after being closed for five months since the March lockdown.
This happened after the state government allowed all places of worship to re-open from this month.
From Tuesday morning, members of Muslim community kept dropping in here to offer prayers. Said Ibrahim, who was at the mosque to attend noon prayers, "I'm delighted to pray at mosque today."
The mosque has also made necessary arrangements to prevent virus spread.
Said Syed Masood Jamali, Chief Imam, Jumma Masjid, Kutchery Road, "We are allowing only limited members for prayers, so social distancing can be maintained."
In the pre-Covid times, he says their community members would wash their face, hands and legs at the mosque before prayers. "But now, to avoid virus spread we have asked them to perform this ritual at home."
Besides, hand sanitisers are placed at the entrance of the mosque's prayer hall. And wearing of masks is made compulsory for all worshippers. "In the coming days, we will also arrange thermal scanners to check temperatures of worshippers," says the Imam.
From now on, the mosque will be open for daily prayers, that happens five times a day (5 am, 12. 30 pm, 5 pm, 6.40 pm, and 7.45 pm).
However, the Chief Imam says mosque will open just 15 minutes before every prayer and close once they are over. "The duration of prayers are also shortened to 5 minutes now. In normal times, it used to be at least 20 to 30 minutes."