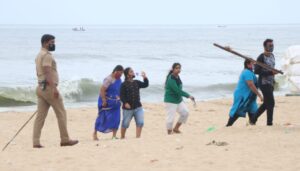 Police walked up and down the sands of the Marina beach, south of the Light House end this Saturday evening, persuading people who were enjoying themselves here to leave the place since the pandemic rules do not allow for large gatherings in such  open, public places.
Policemen and women of the Marina Beach and the Pattinappakam police stations were involved in this exercise.
There were a fair number of people here since 4 p.m.; singles, couples, families and friends. Some were enjoying a dip in the seawater on the shore while others sat on the sands opposite the rows of colonies starting from Nochi kuppam end.
Last weekend witnessed a huge number of people visiting this end of the Marina since it is not barricaded; the stretch from Light House to Anna samadhi has been barricaded and under the eye of the police since late March.
Police say they will start fining violators from Sunday.
The open air fish hawkers market on this stretch has been open since regulations were eased. It is busy mornings and late evenings, crowded on weekends.