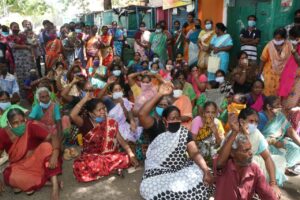 Residents of the sprawling TN Slum Clearance Board colony in Vaniyampathi in R. K. Nagar ( in R A Puram zone) staged a protest in the campus on Tuesday morning ( Sept.22) after Slum Board officials launched demolition work with the assistance of local police.
The Board is demolishing all old blocks it had built some 40 / 50 odd years ago in various parts of the city and constructing new blocks of flats to accommodate the residents.
While such projects are undertaken, the residents have to move out and pay for their rentals though the Board grants a small compensation till the time the families are allotted the new dwellings.
The Vaniyampathi community had agreed to move out to make way for the demolition but they argued that this was not the best time to be asked to vacate.
Said one woman here, "Most of us have been without work for months due to the Corona virus situation and so we don't have the money to pay for rentals outside."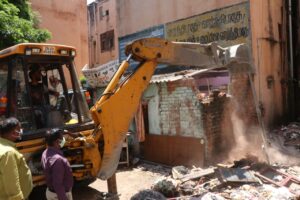 The officials who had contracted JCBs and workers to launch the work had issued work orders and some illegal structures in one end of the campus were brought down when the community began the protest.
The officials and the community had a discussion and demolition work was suspended for now.
There are 13 blocks of small flats in this campus and some 400-odd families reside here. In addition, there are some 100 small, illegally built dwellings raised in free spaces.
This colony is located off Venkata Krishna Road, on the south side and is part of Radhakrishnan Nagar ( R K Nagar).
Similar work has begun in other parts of Mylapore. In the same area, not far from this zone the blocks were demolished and foundation work was on when the pandemic broke out; now, work has re-started here.