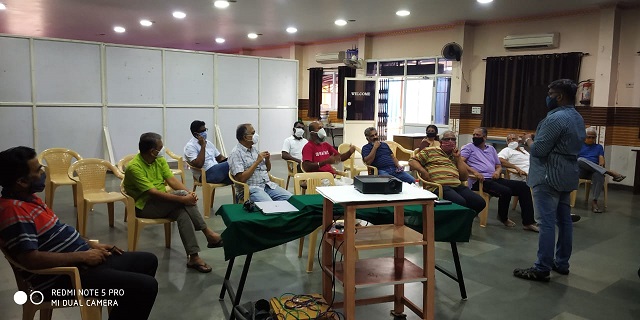 Officials from Urbaser Sumeet met with the members of several resident associations in the neighbourhood on Sunday, Oct. 4. Here are some of the issues discussed at that meet.
– Door to door pickup by battery operated vehicles will happen from 6 a.m. to 2 p.m. everyday.
-Workers are not allowed to enter the building premises. It is mandatory for residents to come and hand over the garbage personally or through their watchmen.
-The main focus is on source segregation. Residents should handover the garbage only after segregating them. If there is a violation of segregation rules, there will be a spot fine.
-The workers will go around the area about three to four times so that the residents can plan to hand over the garbage according to their time of convenience.

– The present bins will be replaced by 2 new bins. One for wet waste and another for dry waste. This is to be used only by Urbaser workers to collect garbage from the street. The compactor will come at night to empty the garbage. Residents should not dump garbage in these bins.
-There is a 24×7 monitoring centre to identify residents who dump garbage into these dustbins. They will be caught and penalised accordingly.
-Different contact numbers will be provided for removal of used beds, clothes, dead bodies of stray dogs, cats and cattle and garden waste. Residents should call the numbers and inform the concerned authorities for immediate action.
– Building debris will not come under their scope of action.
-There are separate supervisors and workers for each street and after the streets have been manually cleaned, vehicles will come to sweep the road and pavements.
-In due course the bins will be removed.
The officials sought the cooperation of the workers for the implementation of the programme. The head of resident associations also plan to conduct awareness programmes in collaboration with Urbaser Sumeet. They hope to start implementing the same in a month.