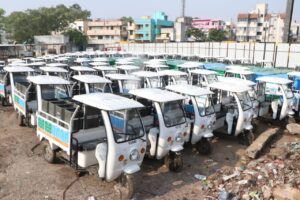 Urbaser Sumeet is all set to roll out its garbage clearing operations across the Mylapore zone today.
The dozens of e-autos which will pick up waste door to door in all the colonies of this vast area were checked and re-checked and warmed up. These autos can be in operation for 8/9 hours, we are told and are run on the morning and afternoon duties and then left at specified yards to be parked and power recharged.
Men and women operate these e-autos.
The men and women who will clean the streets have also had trial runs; many used to work for Onyx and RamKy, the previous private agencies contracted to clear waste in some zones of Chennai.
The rest are new to this job and they have been trained in these tasks.
The agency also dropped off the new street corner waste bins ; but these are to be used only by the agency's street-level working staff to dump locally cleared waste and not by residents. This waste will be cleared by lorries at night.