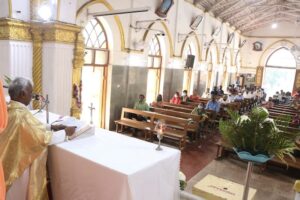 A few churches have re-opened this Sunday, November 1 for Holy Mass – this, after they remained closed to people since late March when the lockdown came into effect following the break of the Corona virus.
This Sunday, at Our Lady of Guidance Church on Lazarus Church Road in R A Puram, the first of a series of Holy Masses was celebrated here ( featured in this photo).
A limited number of people attended the Mass ; they were asked to wear a mask and sanitise their hands as they took their seats inside, apart from each other.
The local community has been grouped to attend the Sunday Holy Mass so that there are limited people attending each Mass across the morning.
Some churches in the area reopened in late September for Mass – but the people attending the service have had to respect pandemic time regulations.
The San Thome Cathedral though has still not opened its doors to the community here to attend Masses though they are celebrated daily and webcast.