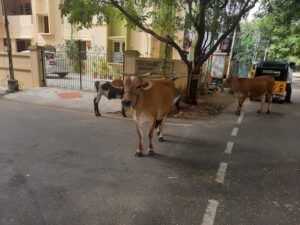 The new garbage collection system has been in place for a week now. Residents of Mylapore are now slowly getting used to this facility and the garbage at street corners have been reducing with home to home collection of the waste by agency staff.
But cattle who roam the streets of many a Mylapore street and feed on banana leaves or leftover food thrown near waste bins seem puzzled and disoriented at the change around them.
In the Abiramapuram area, a herd of cows which does the round of local streets keep hanging around street corners but realise that there is nothing to feed on.
The moo-s of the cows seem to be a call to people around – as if to say that they are waiting for something to feed on!
Report and photo by S. Prabhu