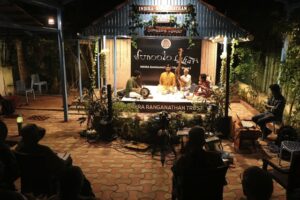 If there is a good example of presenting Carnatic music concerts in a unique setting this margazhi while following pandemic time regulations, then one must point to the festival of Sunaadlahari that is currently on in Alwarpet.
The venue is the garden space of a bungalow in C. P. Ramaswamy Road. Rasikas must pay for admission and that goes for a fund that will benefit artistes, they get a pass online which they produce at the gate. They go through a temperature check and sanitise at the gate and once inside cannot leave the space.
Only 50 rasikas are allowed in a space that can hold 100 people. All sit apart in independent chairs. The place is sanitised after the concert, daily.
The performing artistes gain entry and exist in separate pathways and rooms and the stage, under a well lit roof is set away from the first rows of chairs.
Says Dr Krishna Shankar, a trustee of Indira Ranganathan Foundation which runs Sunaadalahari, "We have strictly followed all state-given regulations and till now all has gone well. We were keen to have live concerts."
The concert-series will be followed by lectures on music.
Get all details at https://www.facebook.com/Sunaadalahari