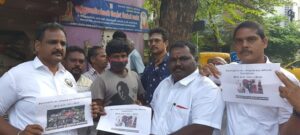 The community of Jeth Nagar in Mandaveli recently organised a drive from Dec 15 to 20 which was named "Namma Jethnagar Clean" which aimed  at keeping the streets of Jeth Nagar clean.
The local association called JERA, in partnership with the private solid waste management team of Urbaser Sumeet,worked on this campaign – it was an occasion to explain to residents how all of them could maintain cleanliness and dispose and recycle waste with a purpose and not to litter the local streets.
The team of TN Car-drivers Association, lead by president J. P. Selvam joined this campaign.
The local community has moved out all waste bins save for a few at some street corners so that waste is not dumped all ver but handed over to Urbaser staff who visit door to door.