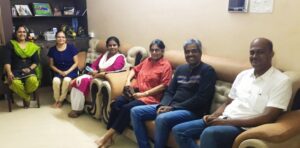 Residents of East Circular Road, Mandavelipakkam have taken the first step towards building an active community here.
They recently joined together and formed a WhatsApp group called 'ECR Community' to address local issues and pass on useful information among themselves.
The group includes residents of East Circular Road, and 8 th Trust Cross Street, 9 th Trust Cross Street and 10 th Trust Cross Street.
Says Saravanan Annamalai, a resident of East Circular Road, "Since ours is a largely quiet area, chain snatching and theft keep happening here. Besides, there are several empty plots that are being used as garbage dump yards."
"There is also the problem of illegal parking. However, we (residents) have not made an effort to come together to solve these issues. Hence, we are now taking baby steps towards forming a community to address such issues."
Adds another resident Sheila D' Souza, "Our ultimate aim is to make our neighbourhood more clean, safe and eco-friendly." Taking inspiration from Thiruveedhi Amman Koil Street Residents Association (TAKSRA) model, the group also plans to grow greenery and paint the abused public walls in their neighbourhood.
At present, Saravanan says residents of 6/7 apartment complexes in this area have joined them in this effort.
The residents also held an informal meeting to discuss their issues. "Our goal now is to get more people to attend these meetings. In the long run, we plan to form a Residents Welfare Association (RWA)."