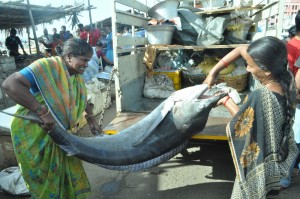 For close to a year now, a Bench of two judges of the Madras High Court has been closely addressing a case that is related to a few key issues on Marina beach.
In fact, the judges handling this case have taken special and deep interest on a few issues; maintaining the Marina beach, managing a licensed community of beach hawkers, clearing the Marina Loop Road of fisher-hawkers and moving them to a formal market off the road and building a bridge connecting Pattinapakkam's Srinivasapuram and Urur kuppam in the Besant Nagar, across the Adyar river flowing into the sea.
Last week, at the latest hearing of this case, the focus was on the proposed bridge. Chennai Corporation says that they have two plans on the table – a bridge that can take all kinds of vehicles will cost Rs.411 crores and a narrow bridge that allows only cyclists and pedestrians to use it will cost Rs.229 crores.
The judges wondered what purpose a narrow bridge would serve when there is a need to decongest the heavy traffic that moves on  D G S Dinakaran Road – Thiru Vi Ka bridge.
Civic activists though are against the plan to build a bridge to take all kinds of vehicles, saying that this volume of vehicular movement will not only affect natural life that thrives on the seaside but also lead to traffic congestion in the Elliots Beach zone of Besant Nagar neighbourhood.
There are other issues being taken up by the Bench – allowing two suppliers to provide for designed pushcarts that will be hired out by Chennai Corporation to licensed beach hawkers so that this rollout happens quickly.
(The GCC had recognised only one company to execute the hawker cart supply order after it meet the GCC tender's requirements but the Bench suggested otherwise to quicken the process.)
Also being discussed is the construction plan for the Marina Loop Road fish market.
Photo used here is from the archives; it was shot at the Loop Road hawker market.