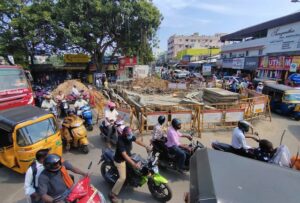 The civic work going on at the junction of South Mada Street and R. K. Mutt Road is creating traffic congestion in and around this area.
And motorists suggest that local traffic policemen must be posted here until this work is completed.
This afternoon, one could see vehicles – MTC buses, vans, cars, autos and bikes piling up at far as Luz Circle northwards and beyond Mandaveli Post office southwards.
And there were no signs of policemen around to address the chaos.
Metrowater workmen are attempting to redesign and construct sewage pipelines that have a junction just outside Sangeetha restaurant, underground.  The road caved in here twice this past month due to the sewage overflow under the earth.
Traffic on South Mada Street which moves westwards also gets clogged up due to this civic work.