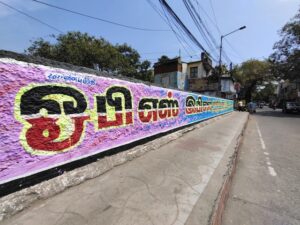 The warm-up signs that go before an election are showing up in the Mylapore Assembly constituency.
The early birds are at work, some openly some subtly as the days get hotter in the run-up to polls for the TN Assembly this summer.
And there seem to be many contenders seeking tickets or making known their aspirations.
The DMK's local leader Velu has not only been plastering local walls with notices for events where he is starred or supports but has also been actively taking part in community events.
It is still not known if the DMK may want to take this seat or leave it to its ally/allies since over time, its vote share in state polls hasn't not been great. It has won the Chennai South parliamentary seat in the recent poll though.
The Congress (I) has at least people eyeing Mylapore. The keener is Americai V Narayanan who is not only making his aspirations clear to the party but also driving some social campaigns of late via INODA, the autos collective he has leaded for long.
The BJP seems to have a few aspirants too. Besides local area leaders, some prominent people are eyeing this seat but not revealing their cards.
The AIADMK also has a few strong contenders but they too are not talking aloud. Some say sitting MLA, R. Nataraj may be tempted to seek re-election – convinced of his record as MLA but others say he doesn't seem to have gracious godfathers in the party. He remains mum.
Former Mylapore MLA Rajalakshmi has upped her social media buzz past weeks – posting photos of all the 'good work' she did when she was the rep here.
A few local leaders of AIADMK also have high hopes.