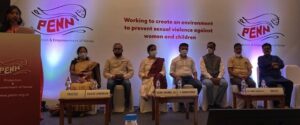 PENN (Protection & Empowerment of Naree), a registered Trust, based in Mylapore, formed to prevent sexual violence against women and children, celebrated its first anniversary.
The event was held on Feb. 13 at a city hotel.
The chief guests for the event were Seema Agarwal, IPS (Addl. Director General of Police, Prevention of crimes against women and children) and Carnatic vocalist and playback singer P. Unnikrishnan.
The event honoured late S. Sreeram, one of the founders of the Trust by unveiling a painting. Some public awareness videos created by the Trust were screened.
PENN was formed by a group of professionals. The founders are V. S. Sridhar, a senior corporate executive, late Sreeram, Krav Maga trainor and actor, Sriram Sharma, theatre director, music composer, playwright and lyricist, Anand, a technocrat and Swarnalatha Mahesh, advocate.
The Trust says it has held a number of public awareness programmes and this year, it intends to conduct seminars and webinars, to connect with educational institutions and to conduct self- defence workshops for women.
For International Women's Day, PENN has lined up events and competitions. One is an art competition titled 'Sketch a Solution' for the age group 15 – 25 years and the other is a short film competition titled 'Voice of Women' for the age group 18 – 30 years.
To get more details on these competitions, you can log on to
www.penn.org.in
– Report by Juliana Sridhar