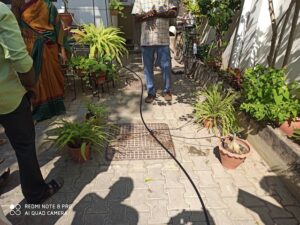 You have a garden. And you wouldn't mind getting resources that makes gardening easy.
This summer, watering the plants will be a challenge, right?
Now here is a solution that has been demonstrated to a R. A. Puram community. A kit produced by a government department that keenly promotes gardening.
Tamil Nadu Agri Horticulture Department has come out with a simple Do It Yourself (DYI) drip-watering kit for home garden enthusiasts.
This subsidised kit would benefit terrace and home gardeners, say officials.
At the instance of R A Puram Residents Asssociation ( RAPRA), a demo was held by the department staff to a gathering of home gardeners at a residence which has a garden in Second Cross Street, on March 6.
The officials say this kit saves labour, conserves water, allows equitable distribution of water, prevents washing out of fertilizer, enables easy application of liquid fertilizers and saves time.
The department has come out with two types of  this kit.
One is the manual kit, priced at Rs 720 consisting of 20 metres of lateral hose, T-joints, elbows, filters, micro dippers etc.
The Automatic Kit is priced Rs.2880 and apart from what is given for manual kit, additionally it contains a timer device operated by a 9volt battery.  Automatic kit is useful for gardeners when they travel out ; this kit can be remotely operated using the cellphone.  Drip time and duration can be set with the help of the timer.
Both the kits are sold at subsidized rate.
The department official says that 60 pots can be irrigated within 15 minutes and the gardener can use that time for de-weeding , harvesting or pruning.
The kit comes with a easy Do it Yourself booklet.
For details contact : Rajeevan, Deputy Horticultural Officer :  9840255347