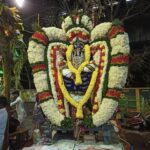 R. K. Nagar residents and devotees of Shri Varashakti Vinayakar participated in the grand Punaha Avarthana Ashtabandhana Mahakumbhabhishekam, or the repainting, purification and renewal of the gopuram and premises.
The three-day festival started with homams and yagams on Feb.22 and 23 and culminated in the grand Kumbhabhishekam ceremony on Feb.24.
The deity, Pillaiyar Shri Varashakti Vinayakar was decked in a splendid, luminous, stone studded kavacham and taken in procession along
the streets of R K Nagar. The spiritual procedures were conducted by Vedamurthi Sivacharyar and the temple's priest, T U Harihara gurukkal.
The arrangements were taken care of by the managing committee of the temple, a group of volunteers of this R. A. Puram colony.
This temple lies on the junction of the Cross Streets of R K Nagar with First Main Road, leading on to Tiruveedhi Amman Koil Street on the right and straight on to Sringeri Mutt Road. It is a small but pretty temple, nestling under the shade of a giant peepal tree.
Over the past 18 months, the temple had not seen much activity partly due to the pandemic and partly due to the inordinately delayed storm water drain civic work.
Report and photo by Rekha Suresh Kumar