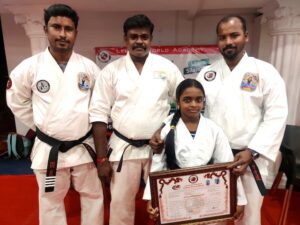 Nine year old Vipassana and her younger sister, Satvika, have been passionate towards martial arts.
These residents of C. V. Raman Road in Alwarpet, they have been learning Isshinryu karate and silambam ever since they were five; they have won several prizes too.
Recently the younger sister, Satvika achieved the orange belt in silambam and on March 7, the elder sibling, Vipassana conquered her dream: the Karate Black Belt.
Vipassana has been undergoing rigorous training for the past 30 days that begins at 6 with a 5km jog every day which got increased to a 15km stretch towards the end.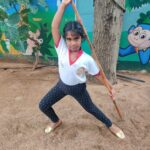 The event on March 7 was hosted by the Legend World Academy; it involved her breaking tiles, demonstrating complex kathas and culminated in winning the coveted Karate Black Belt.
Both the sisters are also trained classical and Jazz dancers, says their mother Dhivya.