Post lunch, as the day's temperature must have hovered beyond 35 degrees two campuses which hosted large number of booths held contrasting pictures.
At Rani Meyyammai Girls School in R A Puram, where there are 18 booths ( each has queues for m en and for women) men and women and youths kept streaming in when we clicked photos at 2;30 p.m.
These booths cater to very thickly populated areas of the constituency.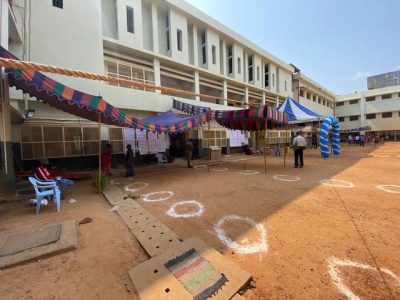 Over at Vidya Mandir school campus, in Luz which also hosts a large number of booths, the voters' stream dried up after 1 p.m. and a few souls were seen at 2;45 p.m. Voters whose booths were previously located around Nageswara Rao Park zone were given booths here.
The booths also cater to highly congested areas like Palakkuma Nagar off Luz zone.
There was no law and order problem across the zone save for some heated exchanges this morning at Chaitanya School campus when actor and BJP candidate Kushbu drove in to cast her ballot – and her car sported the party flag. Agents of Mylapore candidates here were piqued when the car remained around for 30 minutes sporting the party flag.