While early morning Sunday was surprisingly pleasant after the hot days earlier the past week, the Sri Kesava Perumal chariot procession on the seventh day of the Panguni Brahmotsavam turned out to be very tiring for the devotees who turned with great devotion – the heat began to get intense as the hours passed.
Unmindful of the heat, devotees enthusiastically pulled the chariot along chanting, loudly, the name of Sri Kesava Perumal.
Starting just after 9am, it took well over two hours for the Lord to come around the four streets.
Senior citizens Adyapakas led the presentation of Thiru Mangai Azhvaar's Periya Thirumozhi Ghosti around the four streets.
The chariot  was back at West Chitrakulam Street at 11.15am completing the procession
to the cheerful hand claps of the devotees along with the loud beating of the drums
 with the Adyapakas reciting the final couple of verses relating to Thiruvali Thirunagari Divya Desam.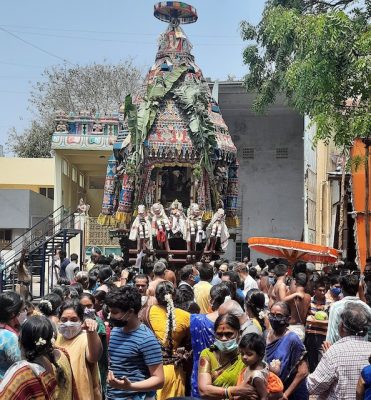 The well attended ghosti numbering over 20, including a few from Thiruvallikeni, presented over 250 of Thiru Mangai Azhvaar's verses this Sunday morning.
– Report and photos by S. Prabhu