On a very hot Tuesday morning, 10 service personnel are sweating it out, clearing the constantly-falling leaves at the Sundaram Finance-maintained Nageswara Rao Park.
Service personnel arrive early, at5.30am and for the next six and a half hours are engaged in sweeping, cleaning and mopping up operations.
V. Vidya who heads the team of service personnel says that the work is all the more challenging in summer with leaves falling all the time all over this sprawling verdant park.
.She says that the free food distributed by a community group outside the east end of the park has led to a lot of food wastes being dumped into the park from outside. This has made the cleaning efforts even more arduous.
Summer is the time for the blooming of Nagalingam flowers, one that is dedicated to Lord Shiva. Every morning, at the south end of the park you see a bunch of these flowers atop the tall trees.
One man who waters the garden. It is his persistent efforts that have led to the blooming of several other varieties of flowers such as Bougainvilla, Hibiscus, Arali, Plumeria and Plumba.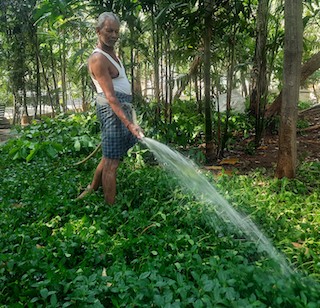 After the first lockdown last year, the park had re-opened for walkers in September – with restricted timings. However, with the current lockdown restrictions, the park has remained closed since the middle of April.
Interestingly, there are some permanent residents inside the park. Cats.
Sundaram Finance has been maintaining the park for close to two decades. Says Rajiv Lochan, MD, Sundaram Finance Ltd., "We are committed to continuing our support towards the maintenance of Nageswara Rao Park, an iconic landmark of Chennai. Right through the lockdown, we have ensured that the park remains spic and span. While the walkers are not able to use the park currently given the lockdown restrictions, we look forward to people savouring the early morning musical rendering of the birds inside the park as and when lockdown eases and activity resumes."
Credit for the maintenance must go to the service personnel who are at their tasks even in this torrid summer and at pandemic time.
Report and photos by S. Prabhu
(( )) DO YOU MISS THIS PARK nowadays? Share your comment.