It is just after 5.30pm on Tuesday evening. Scores of devotees line up at both the Western and Eastern entrances of the gates of Sri Kapali Temple to have a darshan of Sri Kapaleeswarar as he went around the temple complex thrice.
There was more than the usual crowd this evening as a result of the pandemic time relaxations that came into effect on Monday morning.
Shortly after the procession of Sri Kapaleeswarar, North Mada Street was abuzz – most people who had been to the temple stopped by to shop.
Jayashree's father has been running a tea and toy shop at the far west end of North Mada Street for almost fifty years. She herself has been taking care of the Kapaleeswarar Toy Shop fora dozen years.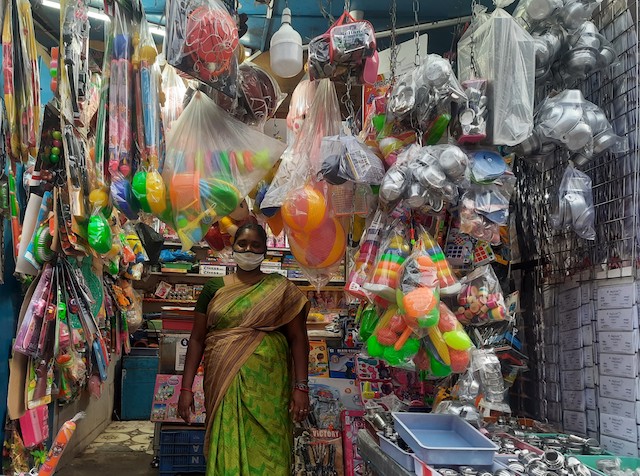 When the lockdown was announced in early May, she had no option but to pack her bags and leave for her native village in Gudiyattam near Vellore. She said, "All the income we had generated in the previous
months prior to the latest lockdown was spent in the last couple of months."
But she says she is happy to be back at the shop . "Today, the sales were good. But the real business will come
only when the temple opens again. That is when we will start seeing the crowd coming back to North Mada Street."
– Report and photo by S. Prabhu