Plans mooted by a state minister for HR&CE for the re-development of a large parcel of property of Sri Kapaleeswarar Temple alongside its campus has upset and worried many people in this zone. And one activist plans to take the issues to court.
The reactions are strong among residents of Kumara Gurunathan Street that runs parallel to the temple wall. The residents were called in for a meeting at Kapali Temple earlier this week where they were categorically told to vacate the houses within the next month. No compensation would be paid to any of the residents. 
 Most of them – a mix of former service personnel and current staffers of this temple – have been living here for several decades.  The entire street comprises row houses. The temple is looking at complete reconstruction work in the four streets south of  the temple complex – Ponnambala Vadhyar Street, East Tank Square Street, Pichupillai Street and Kumara Gurunathan Street.
This is likely to involve dislocation of 60 families. 
 While the temple has plans to build a car park, toilets, rest houses, quarters for staff and a mini kalyana mandapam, the residents point to the developments on the Mada Streets and say that they would not be surprised if high rise buildings are constructed on all these small streets.
 75 year old D Narasimhan was a Paricharaka at Sri Kapaleeswarar for four decades. His father had been serving at the temple for many decades prior to that. Now the third generation – Narasimhan's nephew- is performing service at the temple. Narasimhan's son Hari, who is a purohit, says that their forefathers had been living on the Kumara Gurunathan street for 70years. "Around 1960, they built a small hut house for them. In the last six decades, there has not been a single renovation organised by the temple at this house. The entire expense relating to the house has been undertaken by us."
 "They have asked us to vacate in one month – a place where we have lived for seven decades paying the rent that they have fixed. They have said that we can take a house on rent when it comes for auction in the temple-owned lands in and around Mylapore. But as has been the experience in the past, almost all the auctioned properties have been picked up only by non-service personnel of the temple. In temple auctions, the initial deposit and base price is fixed high and can we every afford it?."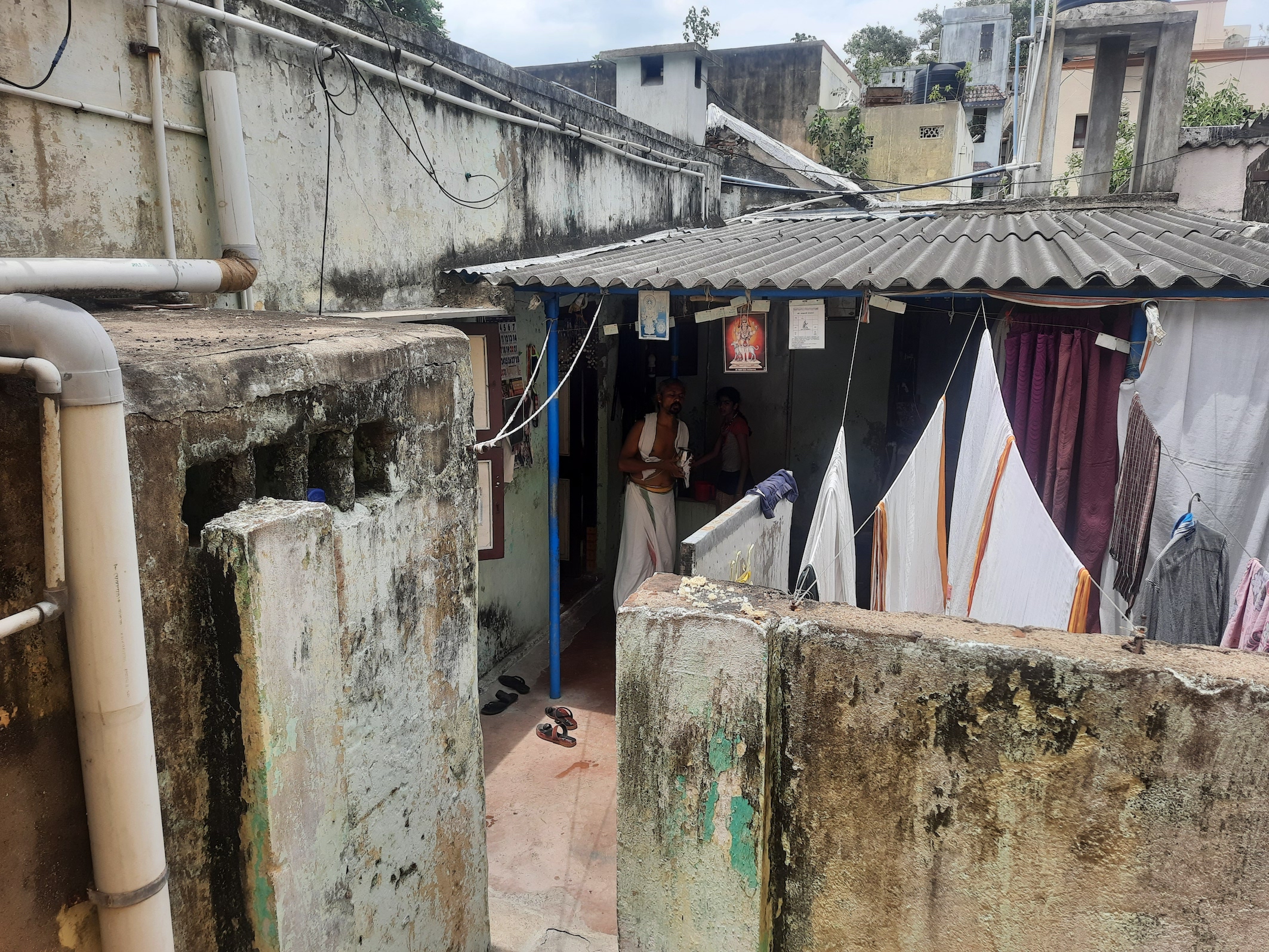 Worried residents
A few yards away from Narasimhan's house is a small one-bedroom house of another Paricharakar, the 63 year old Ramakrishnan who joined the temple in 1978 and retired a few years ago after having served for four decades. He too has now been asked to vacate in the next month. "We have lived here for several decades serving the Lord. Our salary was so low in those days that banks refused housing loans to us. Hence we could not afford to construct even a small house of our own. Now if we are asked to go away without any compensation or an alternate housing facility, where can we go."
 The worry of the residents is also that while the temple is talking about providing quarters to its current staff, it is likely that high-rise modern constructions could come up on this street. They point to BLT Stores building, a high-rise which stands just 100yards away from the temple in a location where there was a 100 year old traditional house. They say that all the old buildings are going away. They also point out that the parking in the entire North Mada Street has been taken over by the local area shops.
 73 year old Velayudham is the former Maniya Kaarar of Sri Kapali Temple. He too served there for over four decades and lived almost all his life performing temple service. He has been living in the small house on Kumara Gurunathan Street for the last many decades. The house continues to be old fashioned – it is thatched.
"Ever since the visit of the minister and the EO, we have been mentally stressed. We did all the renovation work relating to the house over the last four decades.  There are 30 houses of the temple opposite Saibaba Temple and some 40 houses opposite P S School. All these were allocated in past decades for service personnel. If we are provided a replacement house to live in, we can spend the remaining years of our life in peace."
Sath Gurunathan Othuvar too lives in a house on Kumara Gurunathan Street. He has been at the temple for over two decades. While the temple offered a place to stay at that time, it has been dilapidated over time given that most of these houses were built six decades earlier and no improvements had been done by the temple during that period.
With the support of temple devotees, the othuvar renovated his house and says he has spent a few lakhs of rupees to improve the facilities. He too will have to pack up but since he is a current staffer, he may be provided alternate housing facility.
Plans to be challenged in court
 Mylapore-based temple activist T. R. Ramesh, who is the president of the Temple Worshippers Society, has filed several cases against the Kapaleeswarar Temple management, including the validity of the appointment of the officer here. He says that he will file a writ petition in the Madras High Court against the demolition of buildings around the temple complex.  He says that there is no order appointing a EO to Sri Kapali Temple that has ever been issued and the government did not deny this at the High Court in October 2020. Hence the EO has no locus standi to direct demolition of the buildings. Also this temple was established by Poonamallee Mudaliar and there has to be a trustee from among them
 More importantly, he says that Mylapore is already on the radar for being declared as a 'Heritage Location' and this status has arisen primarily because of Sri Kapali Temple and its surroundings. Any new and modern construction around this Temple will go against the heritage and aesthetics of the  temple environment.
 He says under the HR & CE Act, rules have been framed only for preservation and maintenance of temple properties. There cannot be demolition or new construction especially of those that have heritage value around the temple complex in this zone.
Report and photos by S. Prabhu