The community of R K Nagar in R. A. Puram has sweated and rejoiced at its own efforts to clean and green this colony. The positives have made a change – you need to take a walk here to appreciate the change made over some years. Colourful walls, plants and greens all over and no garbage dumps.
But it still has big aches to tackle – the main being the mess that automotive workers and repair shops as well as taxi cab operators cause in public spaces.
Repair shops pop up on pavements here and streets become parking lots for taxis.   The R K Nagar community managed to succeed working with the previous MLA, R Nataraj.
Now, the current MLA, Dha Velu promises support. And streets that looked messy are being beautified. One such effort bore colours on August 15. The NGO, Karam Korporm, which supports ' art in public spaces' was a partner here.
The wall of a local gated community has got a colourful face now. But the mess elsewhere remains and community leaders say it will take time to set things right.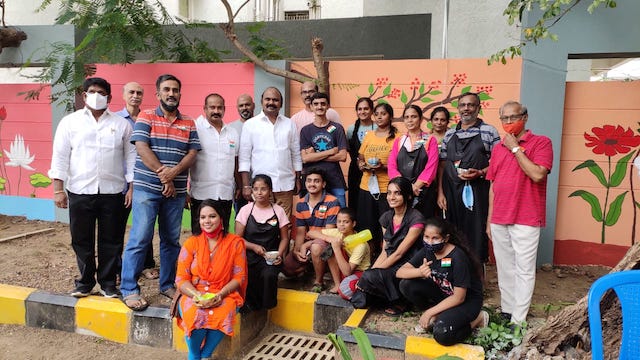 "We still have to convince people here not to dump waste in waste bins but segregate waste," says one leader. "But we will get it right in time."
Says another, "When people who own property in this nagar realise that the value goes up if the area is neat and smart they know the value of cleanliness and civic duties."