Chennai Metro rail project work which covers Mandaveli – R A Puram zone has picked up in its preliminary stage in this area.
Just now, the Chennai Corporation playground at the far end of R. A. Puram, opposite the Jesus Calls campus is the hub of activity.
Some 75% of the ground has been bounded off and now, metal barricades are coming up on the R. K. Mutt Road side.
On the main gate is a banner asking people to stay out – which means local youths will have to make best use of the north end of the ground for any form of exercise or games from now on.
Onsite office cabins and cranes have been set up in the campus.
This work is related to Phase 2 Corridor 3 of Chennai Metro's plans – a rail line that runs from Madhavaram in the north and runs south beyond Adyar and Thiruvanmiyur and on to Sholinganallur via Perungudi with this line also linking Chetpet and Thousand Lights and passing through Luz and Mandaveli.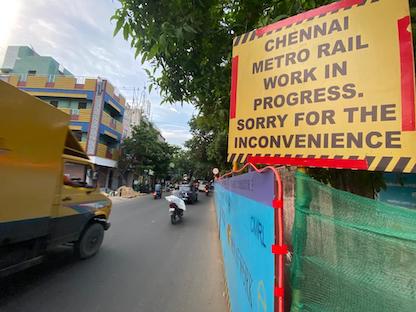 As work progresses, much of which will take place after the city has gone to sleep, traffic movement on the roads around this ground will be greatly affected. This zone is already a busy one, with traffic jams occuring during peak hours.