Maniraju has his hands full, never mind that they carry a faint flavour of kaju.
This owner of Deepam Sweets in R. A. Puram and his team is working overtime to make sweets and savouries for the Deepavali festival.
He is excited about the new special – Karuppati  Mysore Pak, made from palm jaggery sourced from the deep south. It is priced at about Rs.480 a kilo.
"With many people avoiding sugar, this sweet is selling well. People are coming back to order more," he says as a new day dawns and katju katli is being prepared in this small space located in the Chennai Corporation Complex on 3rd Cross Road.
Though a kilo of kaju katli is priced at Rs.900 plus, the order for this is topping. "I have an order for 15 kilos of the Katli for festival delivery," says the excited Maniraju who began this venture last festival season even as the pandemic was slowing down.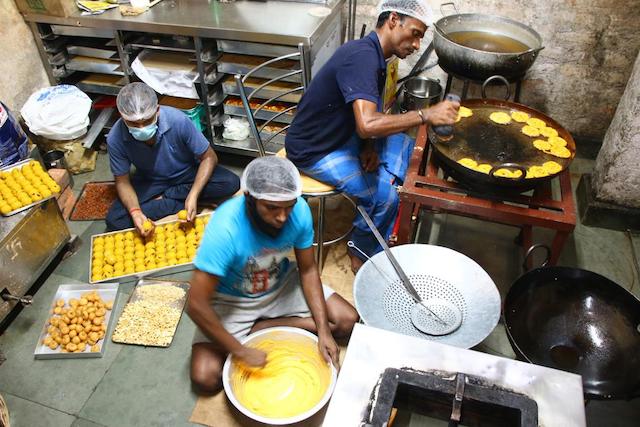 "Business is not great but it is going good now," says the man who has been running the Deepam Hotel next door for some 10 years now, a decent place for a quick south Indian tiffin.
Besides the Kaju Katli, the Bombay ladoos are very popular here and in savouries, Madras Mixture and kai murukku.
"We make the savouries at a Mylapore place," he says.
Most of Deepam's clients are from the R A Puram area and home delivery is arranged too. You can also also stop by at the shop and pack whatever fancies you.
Call Deepam Sweets at 9444130312.
<< IS THERE A GREAT LESS KNOWN PLACE FOR SWEETS IN MYLAPORE YOU KNOW OF? Tell us!