How many coffee joints can the heart of Mylapore take? Be it the ones that grind your combo for fresh coffee powder or the nooks that offer you a cup of steaming cup.
You may count at least a dozen on the Mada Streets.
The number though did not discourage Ravi Vinayagam when he had to decide on how he wanted to develop a part of his property on East Mada Street where his family has resided since the 1950s.
"Food was on my mind," says Ravi on a sunny morning when the monsoon has taken a break. "I decided it had to be coffee. After all this is Mylapore."
So when Mylai Coffee opened on Vijayadasami day ( opposite Bharatiya Vidya Bhavan), Ravi's first few customers gave him an approving nod. And he says he knew he had got his strategy right. He had taken time to fix the right combo in the coffee powder and to source fresh milk and get it supplied to sustain a whole day's operation ) the place is open from 6 am to 10 pm).
Today, Ravi says almost 80% of sales come from coffee. Yes, while he offers cookies and dry snacks in the mornings, there is bajji and vada served in the evenings.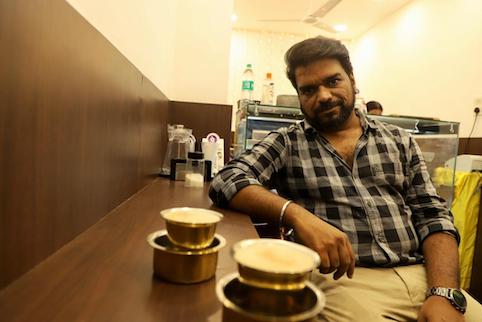 Yes, customers have nudged him on the pricing. A dabara of coffee here costs Rs.30 and the pushy drinkers have pointed to another popular coffee joint round the bend that sells at Rs.12 per cup. So Mylai Coffee offers a mini cup for Rs.20 now. "With what milk costs today we cannot sell at 12 and 15 rupees," says Ravi.
Ravi, who has one foot in the world of cinema, writing scripts and assisting directors says he chose to design and light up his space to make it inviting. "I want people to enjoy their cup of coffee here," he says.