It was just past 7pm on Saturday (Dec 18) evening.
Othuvar Sathgurunathar was all set to present each of the verses of Manickavachakar's Thiruvembavai followed by Utharakosamangai's Pon Oosal on the third and concluding day of the Oonjal Utsavam in front of the Navarathri Mandapam at the Sri Kapaleeswarar Temple.
There was fairly large crowd that gathered on either side of Kapaleeswarar and Karpagambal to listen to the Othuvar's devotional presentation.
An hour later, it was time for the Pancha Moorthy procession. Very few devotees were aware that this was to be a procession around the four Mada Streets. The permission was secured by the temple authorities at the last minute and it was to be the first street procession in nine months.
The conches blew, the drums were beaten as the procession began and as is the norm these days, the cell phones of the devotees rose high above the heads to capture the visuals of the decorated deities.
Sacred moment at Raja Gopuram
The deepa aradhanai at the Raja Gopuram is a sacred moment and the hundred-odd devotees had gathered there are all excited to watch the snake dance presentation by the Sri Patham leading to the 16 Pillared Mandapam.
It was a quick procession and the deities were back in an hour. People continued to stay at the temple for it was just the start of the celebration.
Nataraja and Sivakami
Shortly after 10pm, soon after Pancha Moorthy idols were back in the temple, it was time for Nataraja and Sivakami to make their way to the Thiru Kalyana mandapam at the east end of the temple.
A slow and beautiful procession with Nataraja showcasing his dancing skills to the tune of the music that was played out. Past 10.30pm, Sivakami, followed by Nataraja entered the Thiru Kalyana mandapam for Alankaram followed by Abhisekam.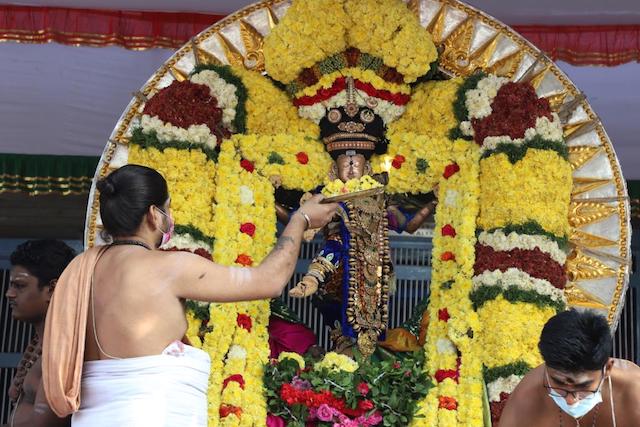 It had been a devotionally engaging four hours for devotees at the temple.
Through Sunday morning, for Arudra dharisanam people streamed into the temple.
Report by S. Prabhu
Photos by S Prabhu. Madhan Kumar