May27. Saturday. It is about 8.45 p.m.
And you would assume that life on one end of Mada Streets has really wound down in these sultry days.
It has not.
A Thamizh play calls curtains at Bharatiya Vidya Bhavan; it is not an engaging play, loosely based on Bharatiyar's thoughts and verses but the packed crowd has sat through it for some 120 minutes; in air-conditioned comfort. Now, over 400 people spill on to East Mada Street.
Already, two coffee shops on the opposite side still host customers and more are heading there. You can drink coffee even after 9 p.m.
Bikes, cars and autos roar. The Chitrakulam tank end gets clogged.  Gandhi looks on, golden glisten that his statue is today on the pedestal.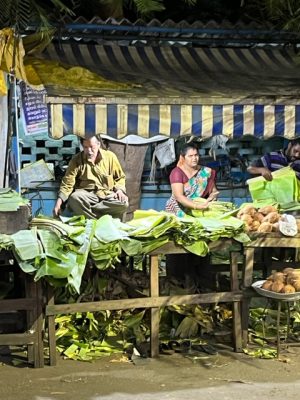 Mangoes and plantain leaves and flowers are still being sold by the hawkers. Steady sales still on.
At Kalathy's; no, not the famed rose-milk shop which is shut by now. But the tiffin kadai around the bend is abuzz; steamed idlis roll off and get parceled: dosas, some plain and some with masala on top are cooking on the hot plate and the woman who looks the boss, is collecting the cash with one hand and handing over parcels with the other.
Honking trebles as this street junction gets clogged.
South Mada Street zone at the gates of Sri Velleeswarar Temple, where the Vaikasi utsavam is on, is floodlit, jazzy sight, and sports giant illuminations of the gods. People are still rushing into the holy space. Hawkers do brisk sales – flowers, coconuts, veggies.
A procession from Sri Vedanta Desikar Temple has either been taken out or is about to begin. Auto drivers want to simply gets out of this zone; they zip.
In the south end of Chitrakulam Street, women quickly design large kolams between barricades and men await their volunteering turn at street ends.
There are nights, when this zone is very alive. Even after 9 p.m. This seems one such.