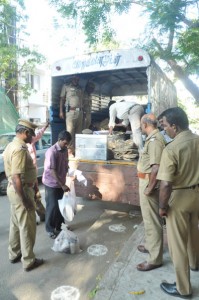 EVMs, cameras, computers and files and all accessories required on election day ( April 13) were unloaded and put in place at all the polling booths in the Mylapore area.
It was done under strong security. But all this was a quiet operation on Tuesday.
Local police took charge of the booths in the afternoon.
Campaign ended on Monday evening. Voting time is from 8 am to 5 pm on April 13. Mylapore is one of the 234 constituencies where state election will take place.
This photo shows all materials required for a booth being unloaded in Bheemanapettai, Alwarpet