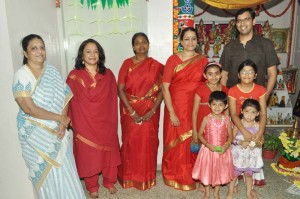 Navaratri was also an occasion to share and to get the community in.
It seemed so in some places this past week. The residents of 'Aashiana', a sprawling campus in Venus Colony always have community-driven events. This time, they organised a common kolu in the common space. "This is the tenth year that we are creating a common kolu," says Vandana Ramakrishnan, secretary of the apartments' association.
"The common kolu is set at the community hall and we have specials pooja held every day. We also distribute sundal to the residents and guests," she adds (seen in the photo are some of the residents of Aashiana Apts.).
The residents themselves contributed the dolls for the kolu. There are 175 apartments here and families take turns to lend a hand to the festivities. Every evening, there are special cultural events like concerts, plays and variety programmes.
"These programmes are organised by the entertainment committee,"says Vandana.
The sundal is arranged by private caterers and this is distributed along with beetle leaves, nutmeg and a small gift.
At the Navaratri Kalaivizha Arulmigu Kolavizhiamman temple in C. N. Chetty Street, Mylapore, the managers of Sri Kapali Temple who also take charge of this small temple arranged for concerts every evening. But local residents took turns to help decorate the kolu set up alongside the sannidhi. At times, some benefactors shared sundal with devotees who came by.
At Nandala's premises on Dr. Rangachari Road, the kolu was set up in the basement and visitors were encouraged to share their remarks on the creation. They could then enjoy a music or a dance concert that was held every evening on the top floor. One evening, sishyas of guru S. Vidyaathreyan presented a recital. As people walked out, volunteers served them sundal and fruits, betel leaves, kum kum and candy. There was a steady stream of visitors here after dusk.
At Sri Ramakrishna Students' Home, Mylapore the boys get up early and are assigned specific duties to prepare for the day's rituals and events. This has been a long time tradition here at Navaratri time.
At the evening concerts, if the main hall was packed with rasikas many boys were allowed to enjoy the concert outside as a TV screen beamed the concerts, which are a big draw for Mylaporeans who live in that area.