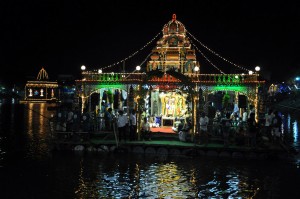 A huge holiday crowd took part in the first day of the three day teppam fest of Sri Kapali Temple on Saturday. January 26 being Republic day, people enjoyed a holiday and this enabled them to be early at the temple tank to be part of the ceremonies.
The images of Lord Kapali and consort Karpagambal were decorated and kept in the navaratri mantap inside the temple.
Once the aradhanai was over, volunteers carried the images around the temple and into the mada veedhis and once they arrived at R K Mutt Road, they entered the tank from the western side.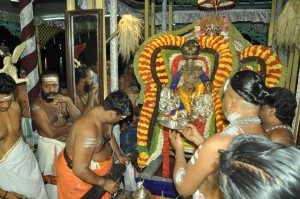 A short religious function was held in the midst of VIPs and their guests and the images were then taken into the colourfully decorated float. The float was then moved across the waters to the music of the nadawaram.
People had packed in from all sides into the steps of the tank. Some lit earth lamps and set them afloat into the waters, creating a magical feel with a bright moon up in the eastern skies.
The float was taken on 5 rounds.
Traffic was curtailed on the main roads to allow people easy access to the tank, where security was in place.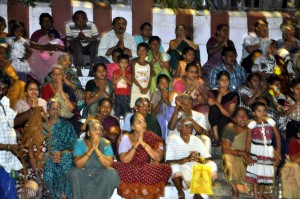 The teppam continues on January 27 and 28 evenings.