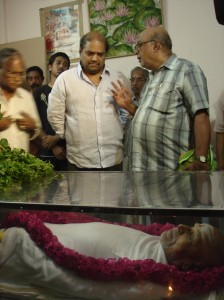 Veteran music director V. Dakshinamurti passed away at his house in Mylapore on Friday. He was 92 years.
Family members said that he did not have any major ailment and died in his sleep at about 6.45 p.m.
A dominant personality in the world of Malayalam films, he also scored for a few Tamil films. Born in Kerala, he was exposed to Carnatic music very early in his childhood and was said to have mastered it But the family faced a series of downs in life and the young man struggled, giving music lessons to earn some money.
Soon though he joined the Malayalam film world and began to score music for films. His Carnatic music talent made him  famous name. He moved to Madras in the late 1940s and made it his home since.
Famed music director Ilaiyaraja has said that Dakshinamurti was his guru under whom he worked as an assistant for many years.
Highly respected even in the later years of his life, Dakshinamurti was seen at key events in the city till late.
His family resides at Shanti Apartments, 13, Balakrishnan Street, Mylapore, off the Jammi Buildings landmark on Royapettah High Road. Family members said that Dakshinamurti chose to live in Mylapore after he landed in the city. He was first a resident of  Sadayyappan Street, off Sri Karaneeswarar Temple area and then moved to Krishnapuram and then to Balakrishnan Street.
He is survived by son Venkateswaran and daughters Vijaya and Gomathisree.
The funeral was scheduled for Aug.3 afternoon at the Mylapore crematorium.
– Photo shows music director Vidya Sagar paying his respects on Saturday morning.