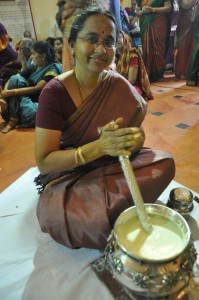 Nandalala Cultural Center on Dr. Ranga Road, Mylapore is the hub of Krishna Jayanthi celebrations.
The three-day festival from August 27 to 29 features an exhibition titled 'Kannkanda Kannan'.
Today, August 28, the events lined up included 'dasa keerthanai', the churning of 'amirtham', and also 'yanthra' aarthi.  In the evening, the birth of Lord Sri Krishna will be celebrated in all its grandeur, which will include a cradling ceremony.
The function will be presided over by violin vidwan Carva Rajashekar.
A grand finale on August 29 will feature 'uri adi' by children at 8.30 a.m. and a 'balakrishna' procession at 5.30 p.m. The celebrations will conclude with a music concert by M. Natrajan and R. Sriharshini, students of Sukanya Sundar. All are welcome.
Photo featured here was taken at this temple premises on August 28 morning. The second photo shows images of Sri Krishna on sale on the mada veedhis